Introduction
Postman is a collaboration platform for API development. Postman's features simplify each step of building an API and streamline collaboration so you can create better APIs.
It can be downloaded from www.postman.com.
This article describes how to use the Connect API with Postman.
Prerequisites
Before making an API call to Connect, create an API key in Connect. Follow the instructions on Creating a Token page to create a token with type "Custom" and copy the token by using the Copy icon on the Tokens screen.
Note the API endpoint value on the Extensions > General screen:


Importing the API specification
First, download the API specification from our OpenAPI specification page. After that, open Postman and click on the "Import" button in the top left corner.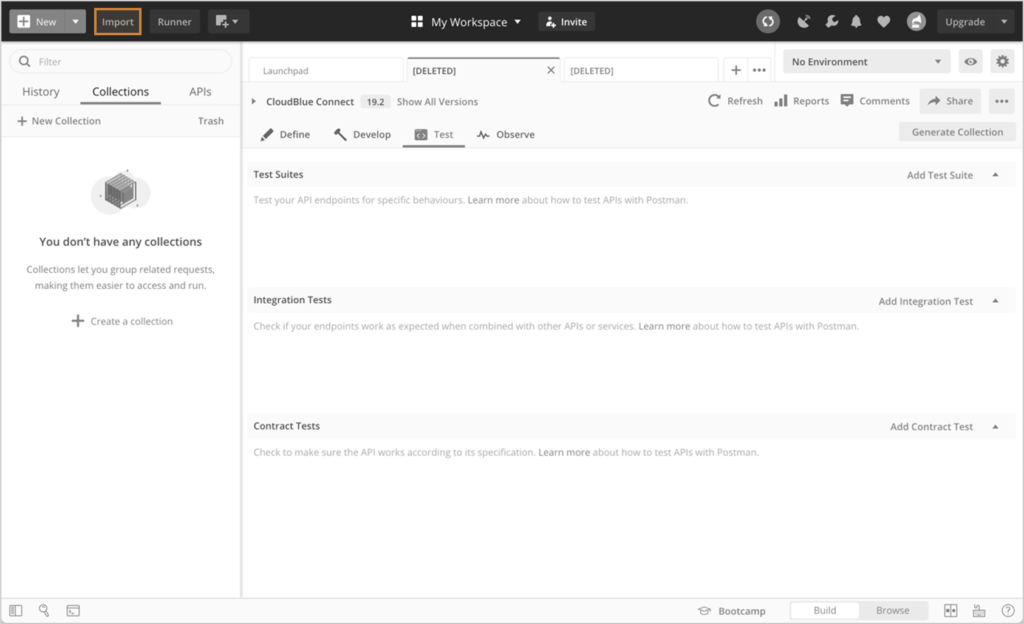 Choose to "Upload Files" and select specification file downloaded earlier.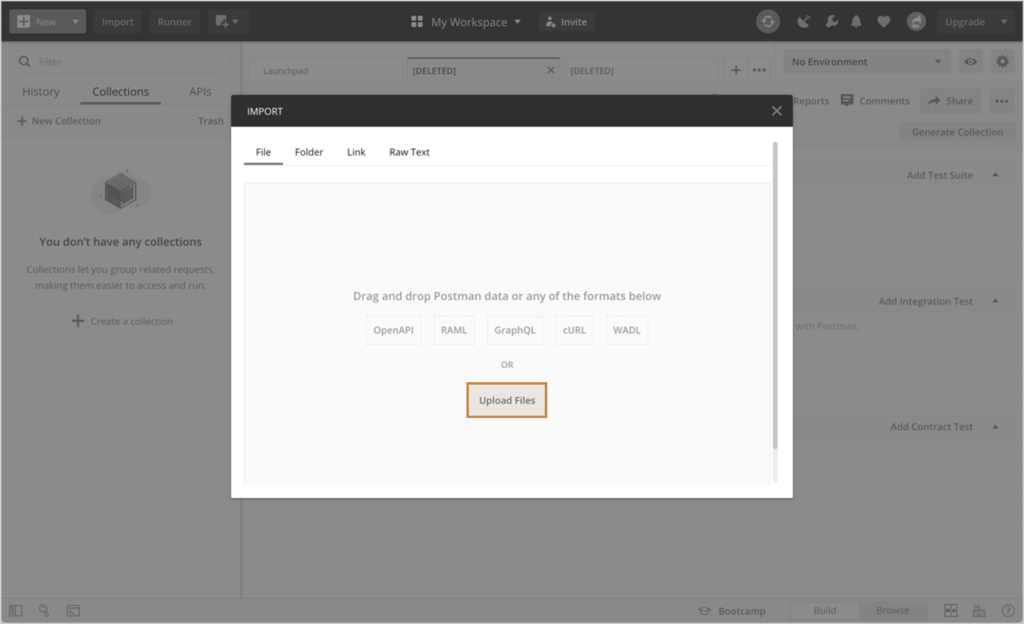 Confirm operation by clicking at the "Import" button in the following configuration dialog: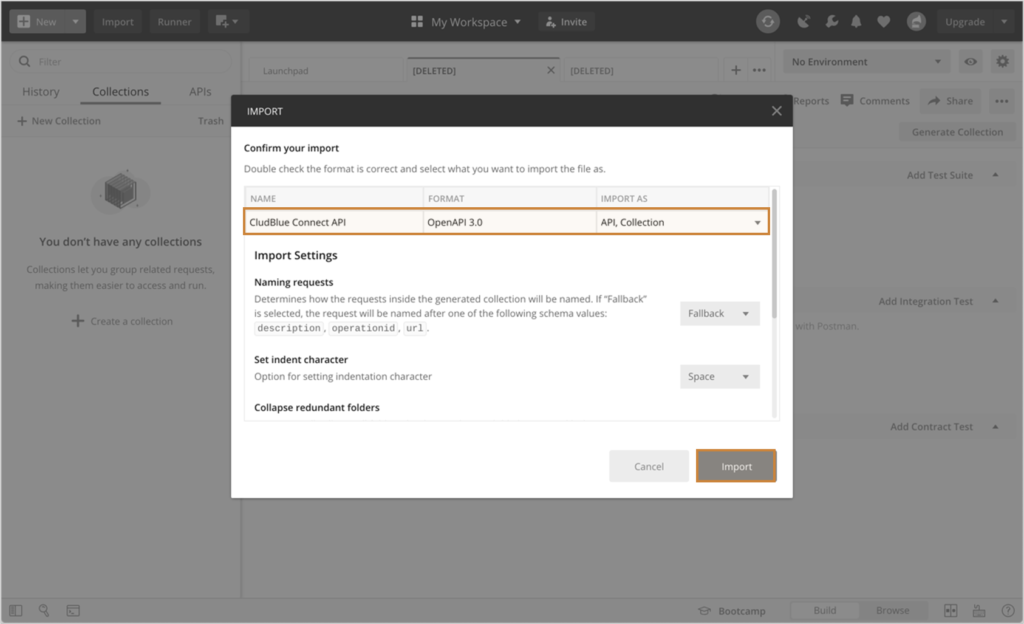 This will add CloudBlue Connect API to your workspace: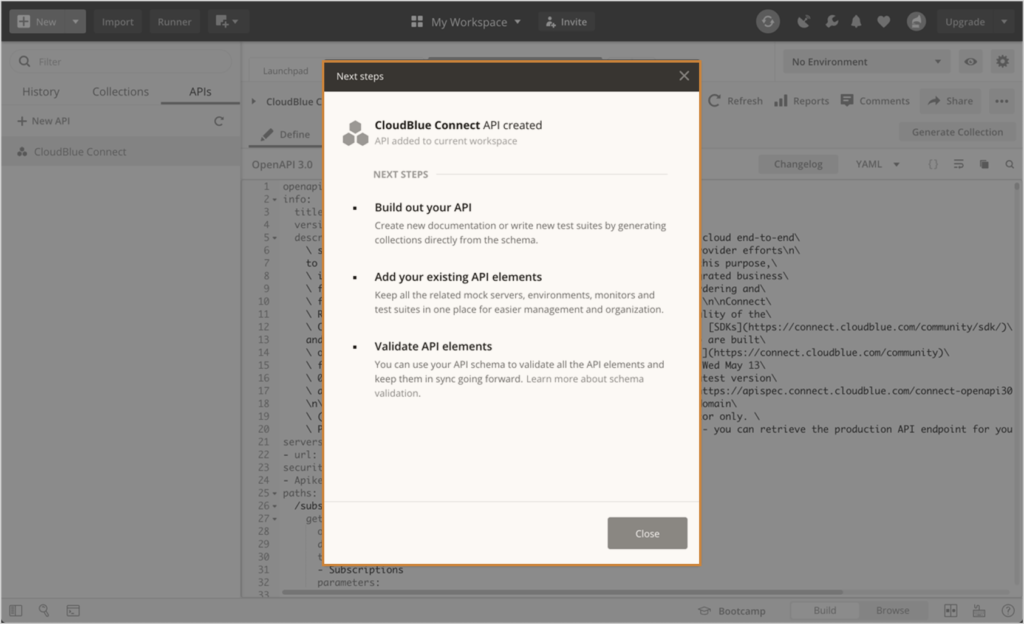 You are now ready to make call CloudBlue Connect APIs from Postman.
Making a sample call
To make a sample API call using Postman, expand the "CloudBlue Connect API" collection located on the left side of the window: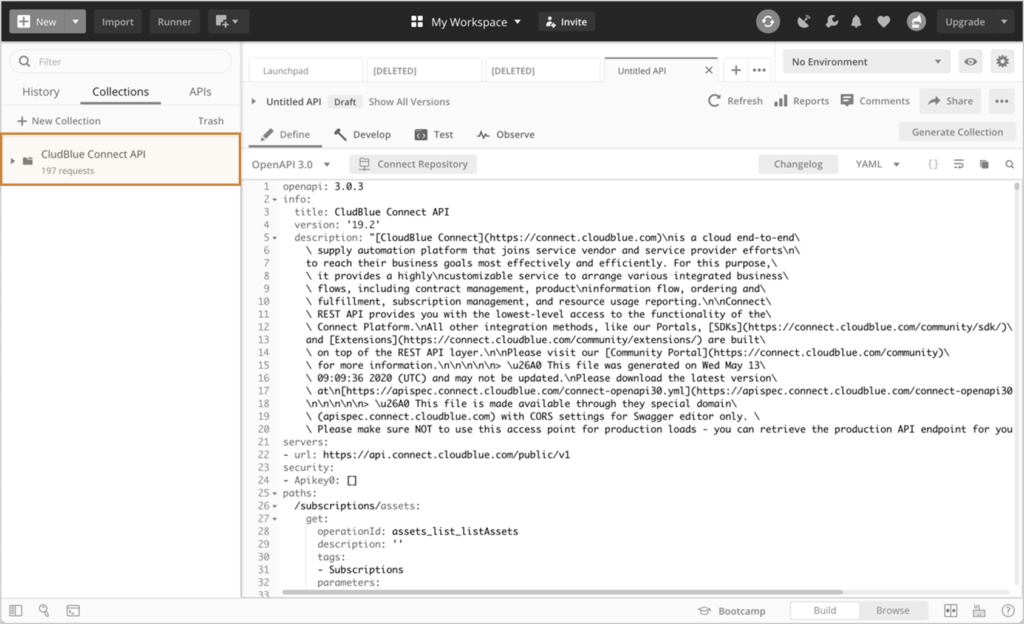 Navigate to the API method of interest, like GET /requests in the following example: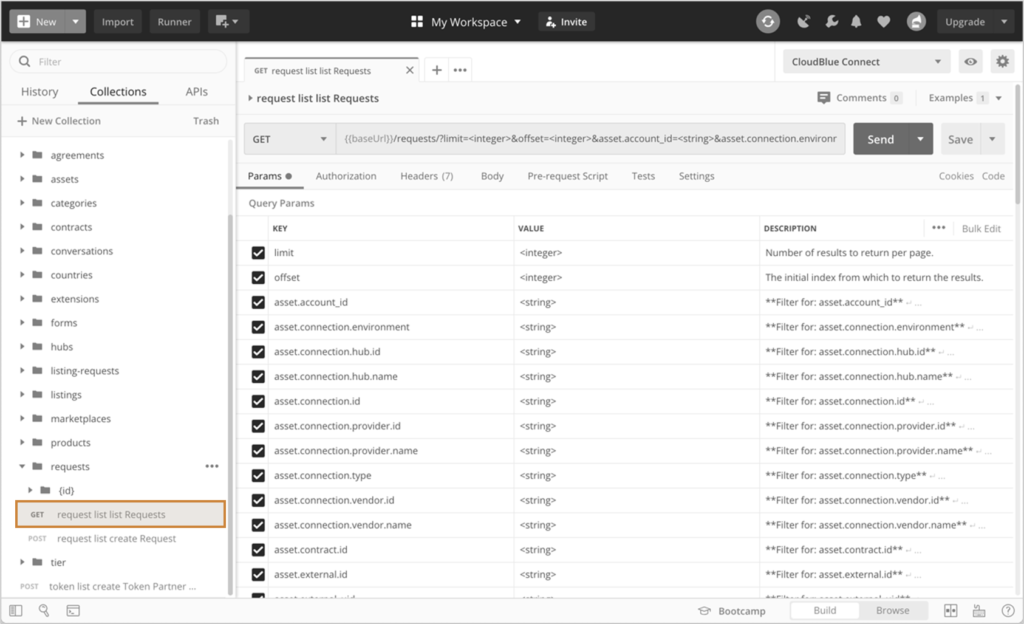 To start with the simplest possible scenario, remove all parameters using bulk edit functionality, i.e. click "Bulk Edit"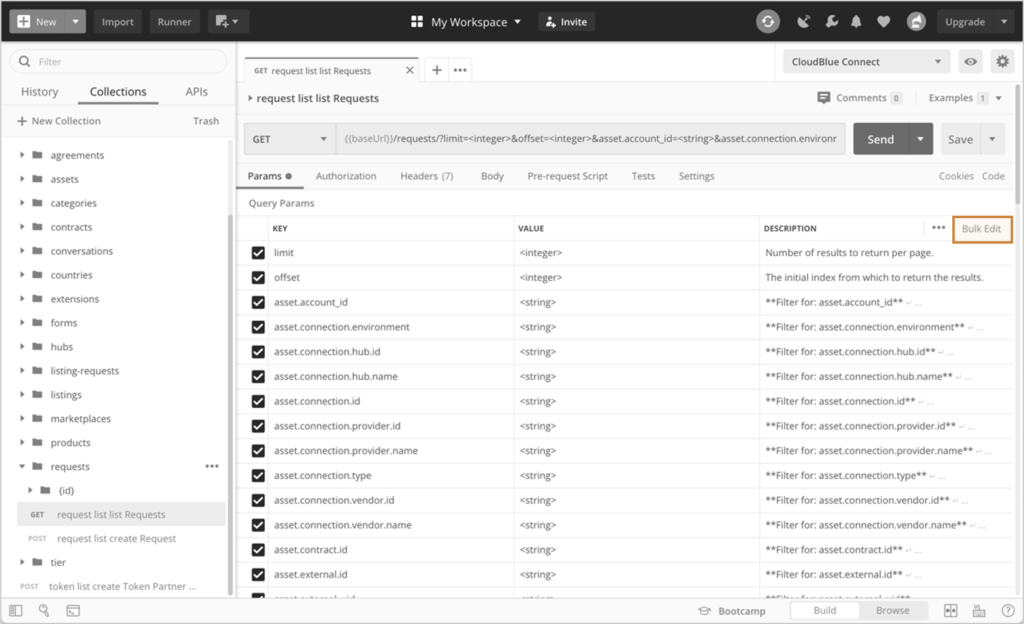 And delete all values from the edit control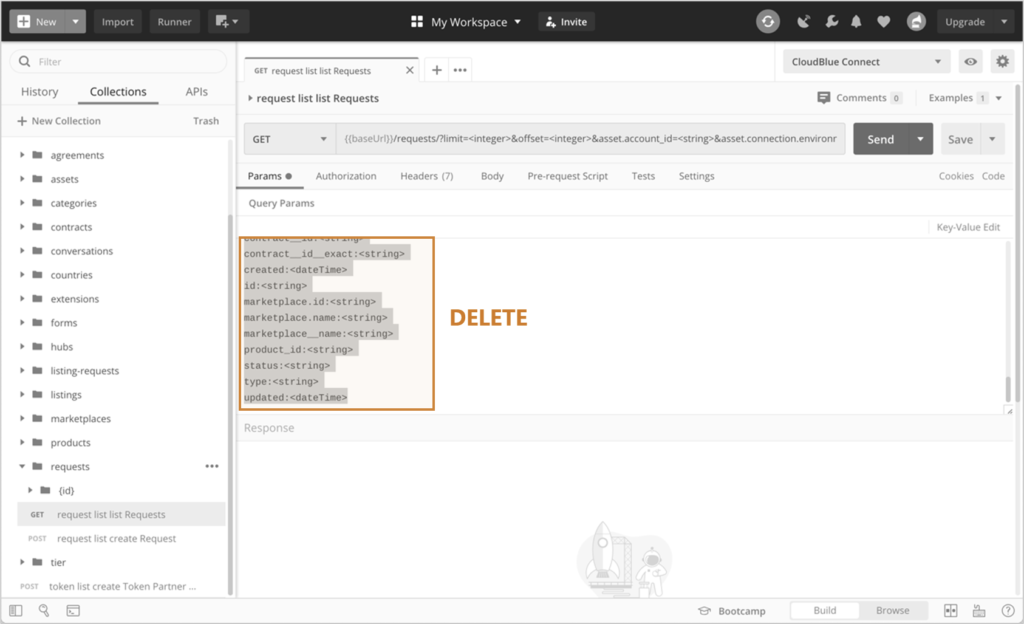 Save changes and switch to the Authorization tab:

Choose the following Authorization values:
Type: API Key
Key: Authorization
Value: Token value retrieved from the CloudBlue Connect portal in the prerequisites section of the article.
Add to: Header
And click "Send".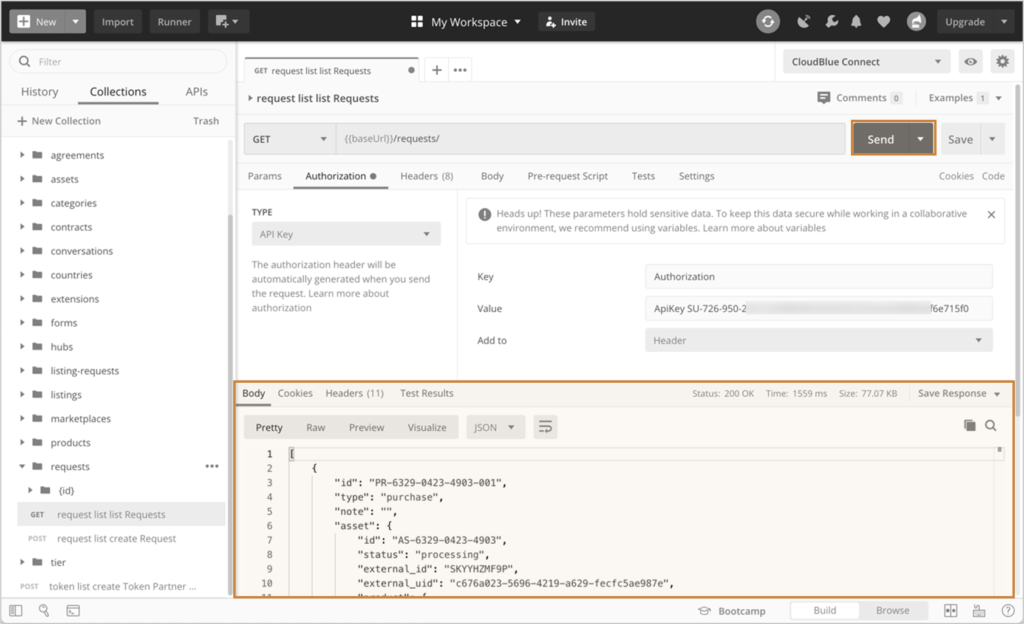 The result of the API call will appear at the bottom of the Postman window.
More Information
For more information, please refer to Getting started with Postman.