Welcome to CloudBlue Connect! This is a high-level introduction to the platform outlining key concepts like Portals, Accounts, and Users.
Actors
Connect is an automation platform that enables partners to build complex supply chain applications and integrate those into various business scenarios.
A supply chain is a system of organizations, people, information, and resources involved in moving a product or service from a supplier to a customer. While similar in their nature, these systems and actors have different names and form different hierarchies across regions and industries.
The following terminology is used to refer to different actors of a supply chain: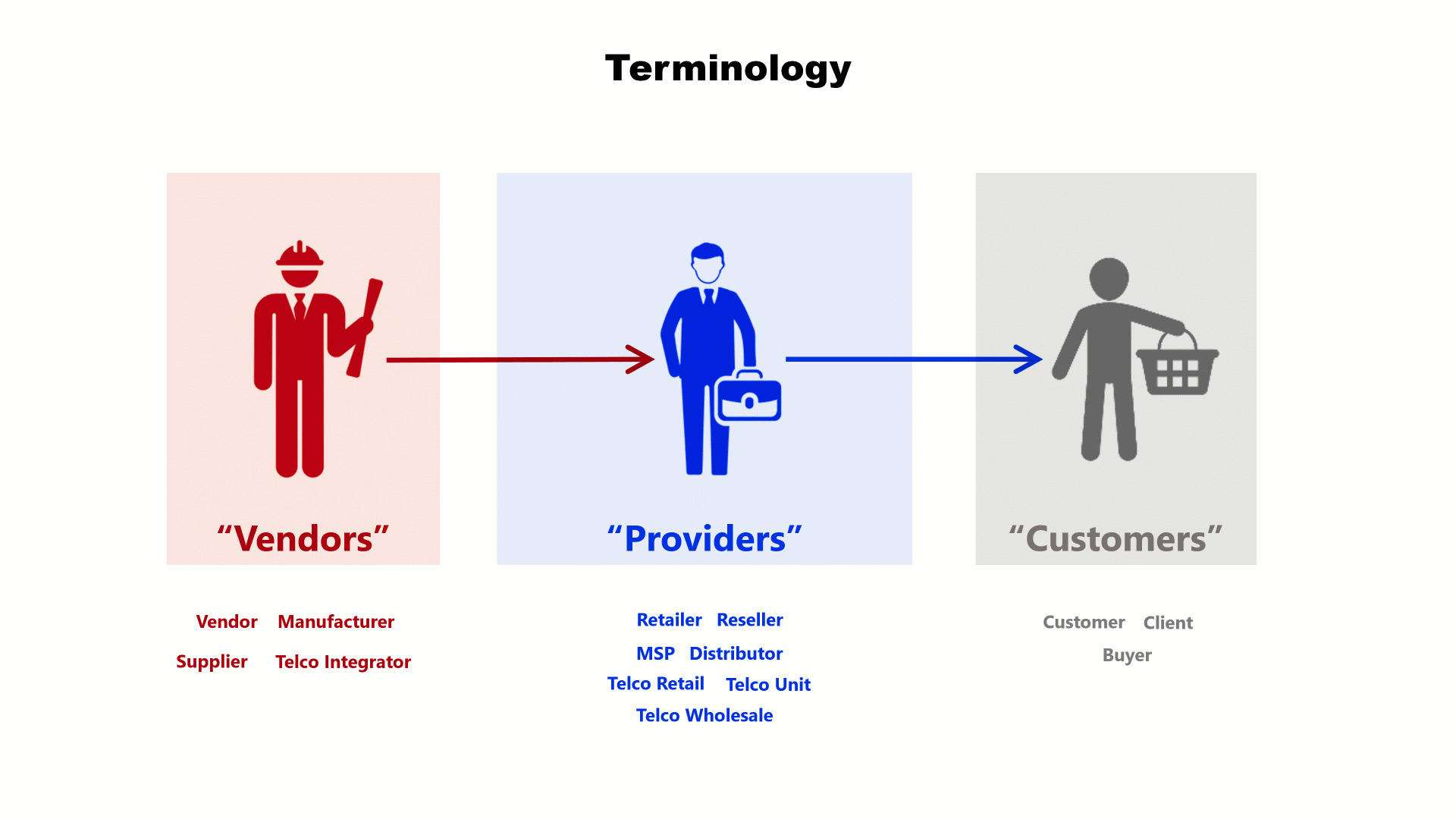 Vendors are elements of the supply chain, where products and services are originating from.
Distributors are elements of the supply chain involved in the distribution of products and services downstream to Customers.
Customers represent the "Last Mile" of the supply chain process when products and services are actually consumed.
Portals, Accounts, and Users
There are three types of Portals in Connect: for vendors (Vendor Portal), distributors (Distributor Portal) and for resellers (Reseller Portal). It is important to outline the difference between portals, and users
Portals are websites that implement a set of related business scenarios for vendors (Vendor Portal) and distributors (Distributor Portal).
Accounts are "container" objects consisting of users and other objects. Some of the real-world analogies to Accounts are Teams, Organizations, or Companies. An Account can be one of the following types:

Distributor is an account type that enables its users to procure products either directly from vendors or other distributors (through syndication) and lists those products in the distributor's marketplaces.
Vendor is an account type that publishes product definitions and manages fulfillment processes. Vendors can list their products in marketplaces of one or multiple distributors.
Note
Connect Portals and related attributes like API URLs can be white-labeled and be accessible through different domain names and have different visual "themes" applied to them.
Diagrams and instructions within the Community page often use single "Vendor" or "Distributor" symbols to refer to the Account of the corresponding type and all its Users:

Business Flows
Connect implements four primary business supply chain flows (scenarios) between Vendors and Distributors as schematically illustrated below: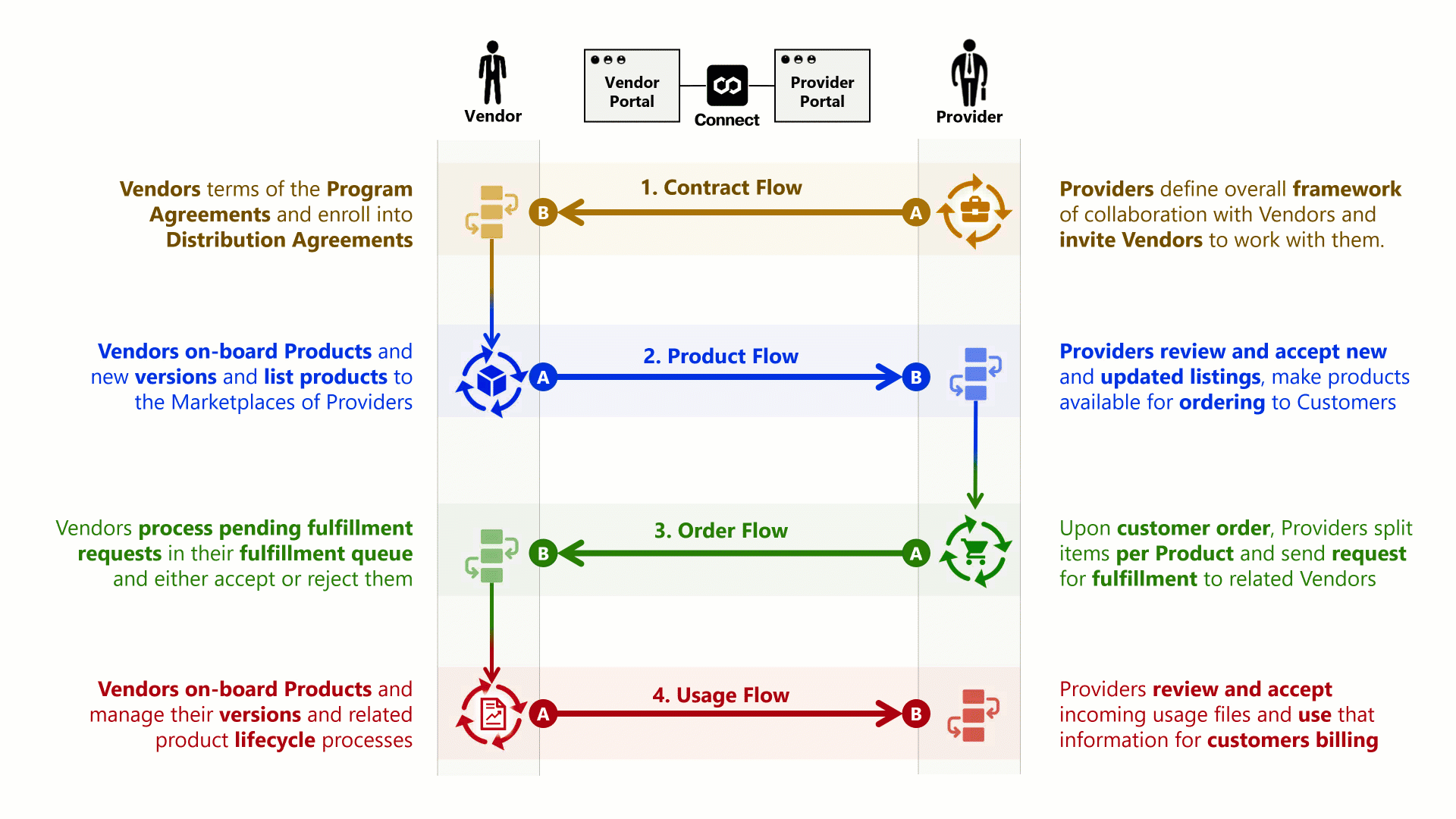 Contract Flow

Distributor define an overall framework of collaboration with Vendors and invite Vendors to work with them.
Vendors accept terms of the Program Agreements and enroll in Distribution Agreements.

Product Flow

Vendors on-board Products and new versions and list products to the Marketplaces of Distributors
Distributors review and accept new and updated listings, make products available for ordering to Customers

Order Flow

Upon customer order, distributors split items per Product and send a request for fulfillment to related Vendors
Vendors process pending fulfillment requests in their fulfillment queue and either accept or reject them

Usage Flow

Vendors on-board Products and manage their versions and related product lifecycle processes
Distributors review and accept incoming usage files and use that information for customers billing
Next Steps
Please refer to Portals Overview for the high-level overview of the Connect Portal structures, navigation elements, and modules.