The tutorial consists of two closely bound parts: Distributor Tutorial and Vendor Tutorial.
Note
Since every business flow requires activities from both sides (Distributor and vendor), during this learning course, you will change your role to Distributor or Vendor and perform a required action following one or the other tutorial.
Prerequisites
This tutorial implies that you meet the following recommendations:
You learned the high-level Connect business concepts as explained in Getting Started and Introduction.
You are familiar with Connect Portal concepts as explained in Portals.
You have access to the Distributor Portal.
Business Flows in Tutorials
The tutorial teaches you the practical steps in the main business flows where Distributor collaborate with Vendors: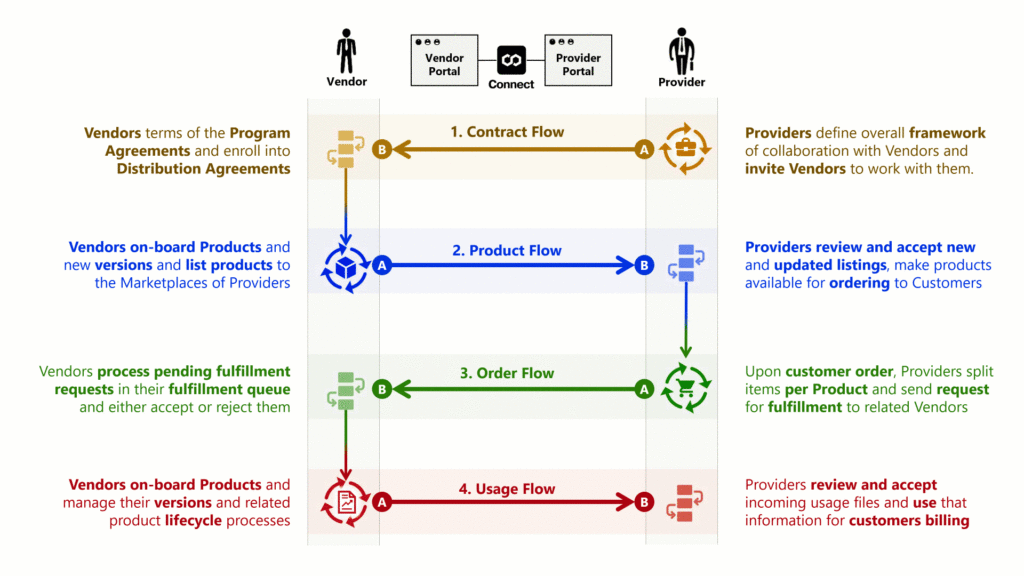 Before starting business flows, you will prepare the distributor general environment, including a marketplace and hub that represent the distributor commerce system. After that, you will be able to go through the following flows:
Contract Flow:

As the distributor, you create a program agreement to sign a contract with a new vendor and a distribution agreement to sign a distribution agreement with this new vendor.
On behalf of the new vendor, you accept the program contract and this way get access to the Vendor Portal. Then, you request the distributor to sign a distribution contract.

Product Flow:

As the vendor, you create a product and request placing the product listing on the distributor marketplace.
As the distributor, you approve placing the product listing on your marketplace.

Order Flow:

As the distributor, you place a request to the product for a customer in the marketplace.
As the vendor, you fulfill the request.

Usage Flow:

As the vendor, you generate a resource usage report and send it to the distributor.
As the distributor, you accept the report.
With the above flows in mind, start the Distributor Tutorial and be ready to periodically switch to the Vendor Tutorial and back.
Main Actors
To establish personas, you will be working on the premise that the distributor company name is Mighty Mick's LLC and the vendor company name is Front Street Inc.
Front Street Inc. wants to start selling their software to the customers of Mighty Mick's LLC. "Tutorial Product" will represent a software product that has a volume license key and a perpetual license.