Overview
Assets represent instances of the product that are provisioned for the customer. The main screen of the Assets module displays a list of assets with multiple sorting abilities: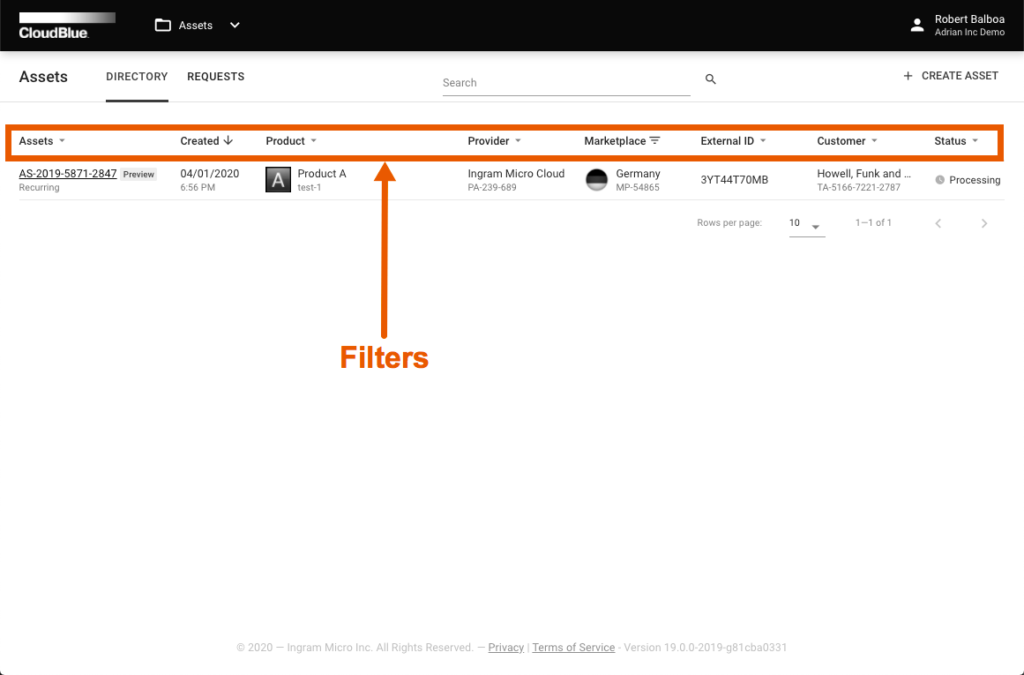 Creating an Asset
There are 2 ways of creating an asset. The first option appears when you don't have any existing assets: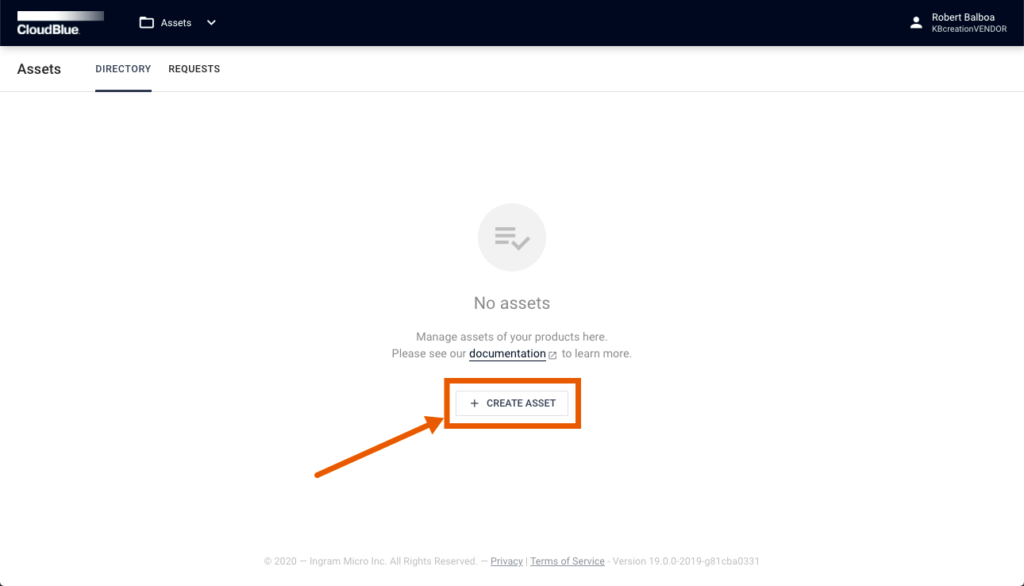 Immediately after the first asset is created, the view will be changed and the creation button will be available on the top-right: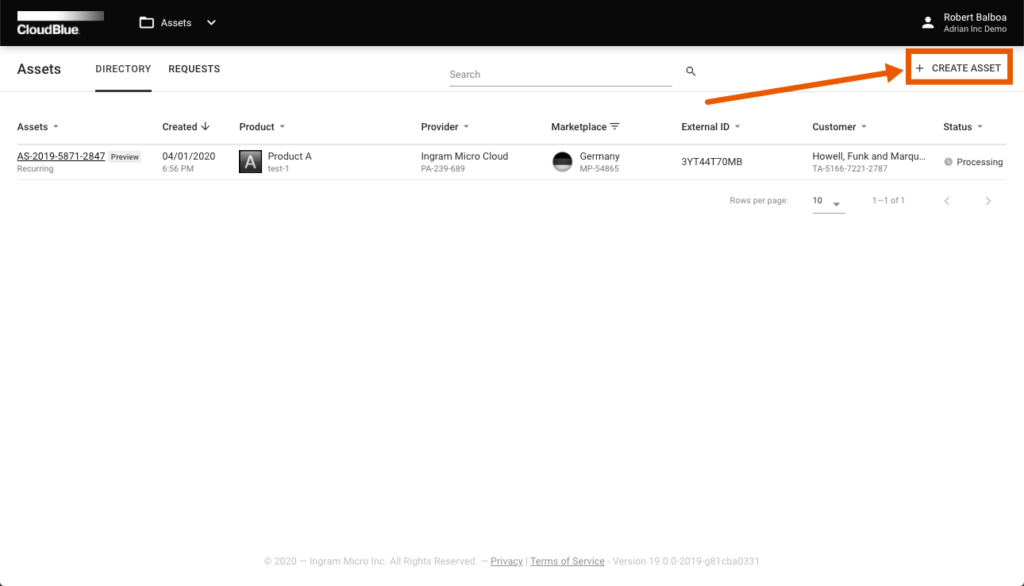 After clicking the CREATE ASSET button, the corresponding popup appears. The asset creation wizard contains up to 11 steps, depending on the Reseller Tiers model chosen:
Here, we will highlight the step-by-step description of every screen of the asset creation wizard.
STEP 1 – Introduction
Here you will see the intro text explaining what the Asset means, guiding you to the next steps and the Documentation link as well.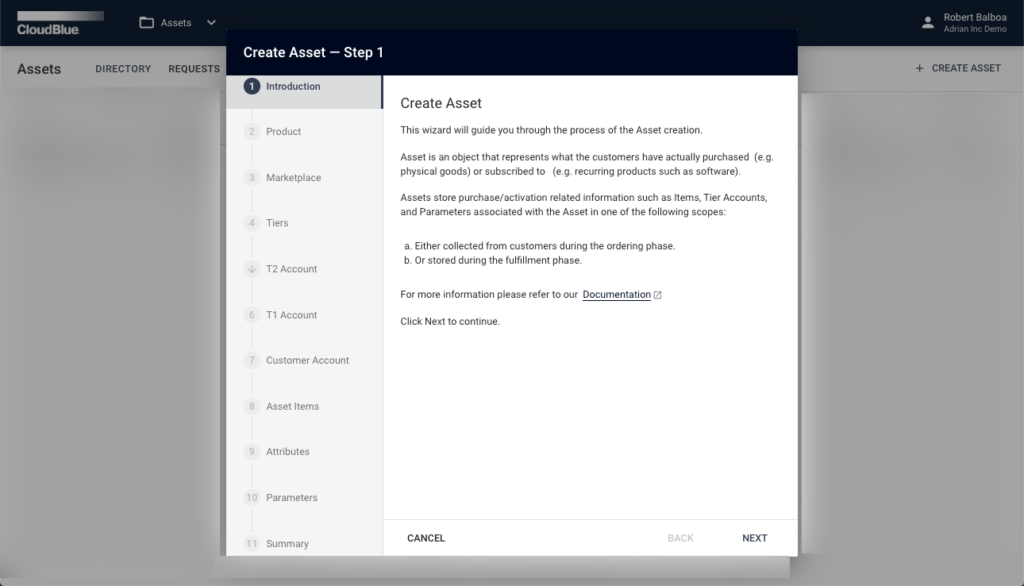 STEP 2 – Product
Here you should select the Product to deal with, manually, or using the search line.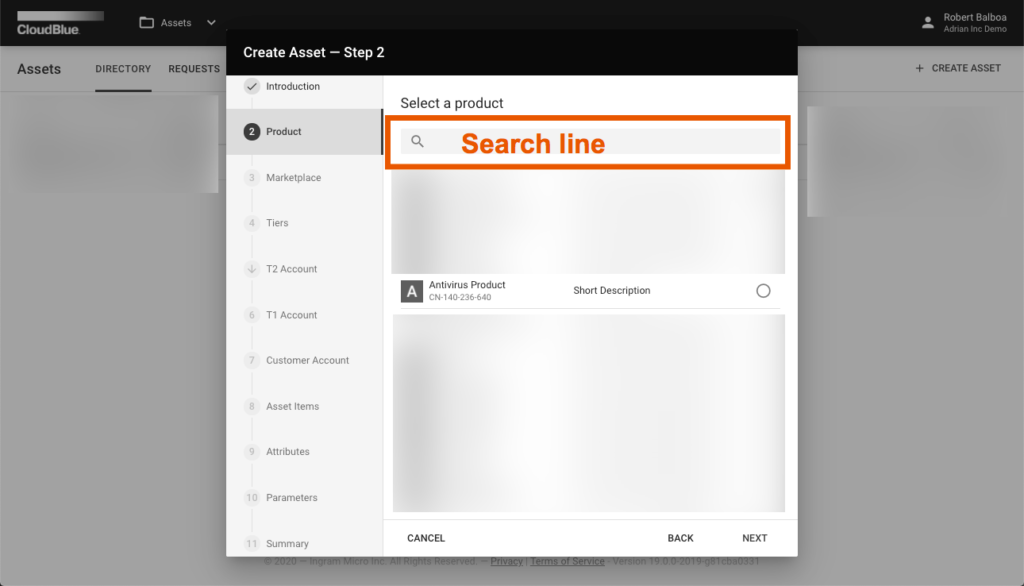 STEP 3 – Marketplace
This screen allows choosing a real Marketplace available for the Provider.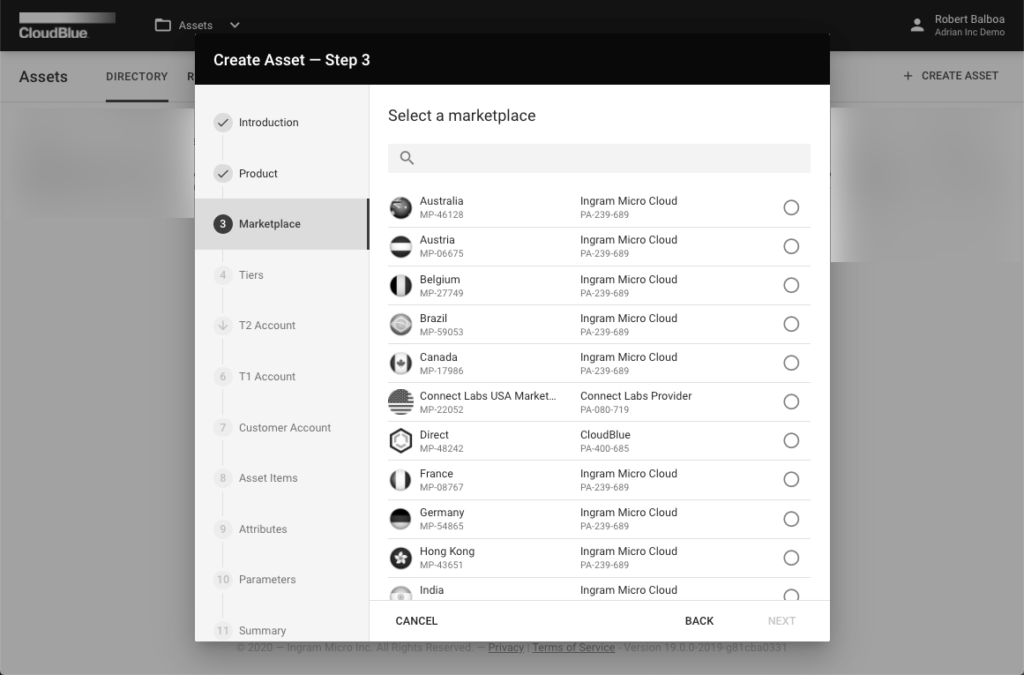 STEP 4 – Tiers
This should be chosen depending on which tiers model better describes your marketplace.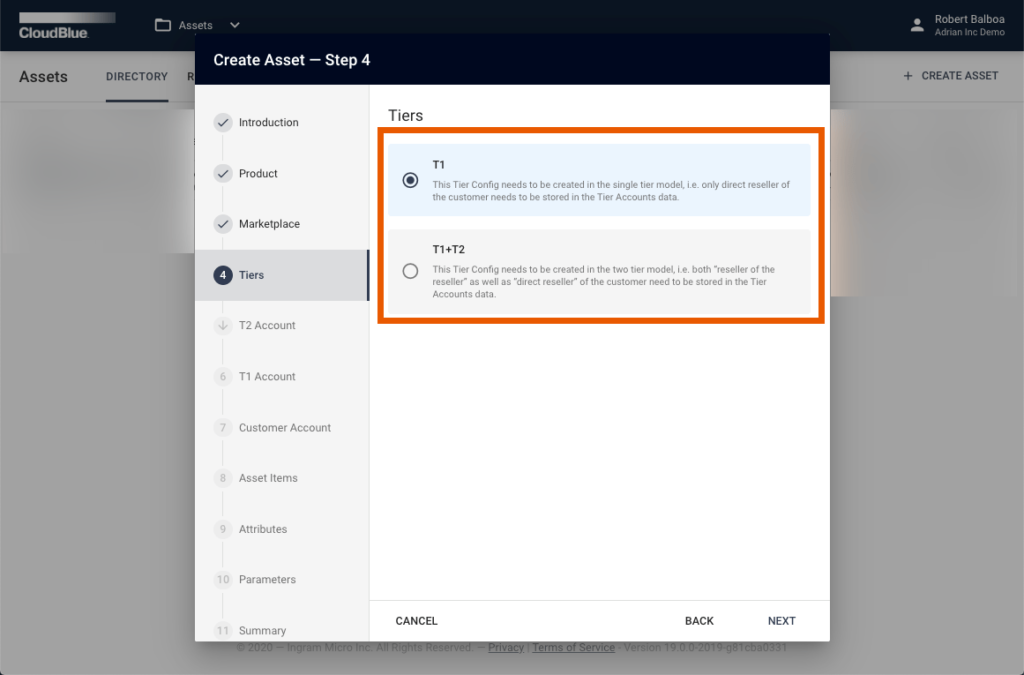 STEP 5 – T2 Account
Optional and appears only if you have chosen T1+T2 reseller tiers model previously.
STEP 6 – T1 Account
On this screen, depending on the Reseller Tiers setting that was provided earlier, we either go through both Tier 1 and Tier 2 accounts, or we only select the Tier 1 account. There is an option to either select an already existing account or create a new one: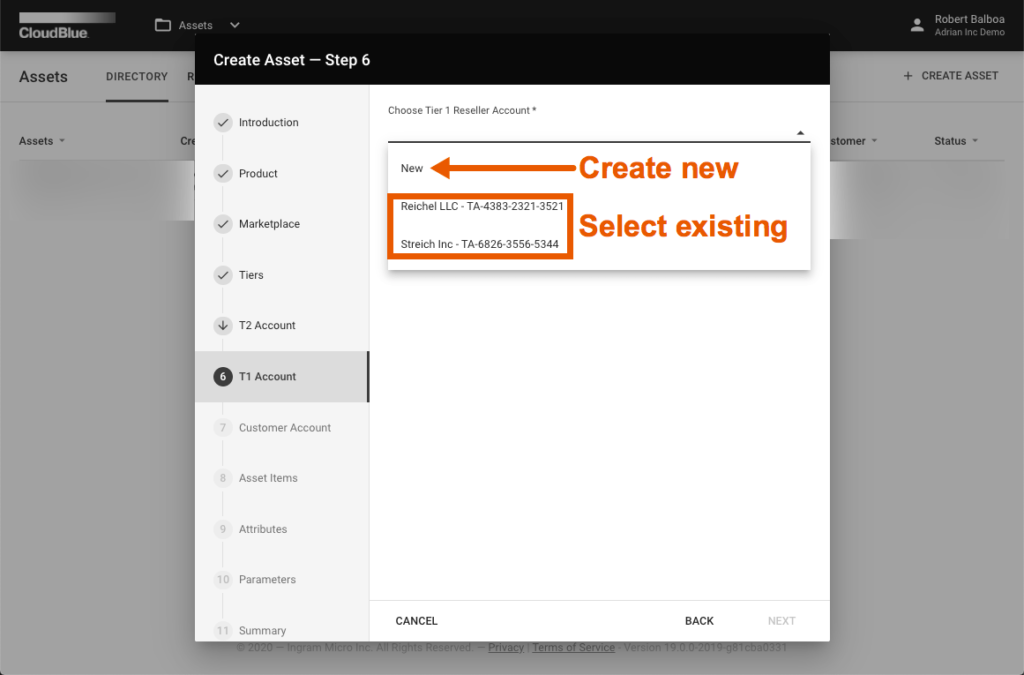 When you create a new account, data fields must be populated with randomly generated values. Those values are generated based on a country that is randomly chosen from a list of countries associated with a particular marketplace selected earlier. All other auto-generated fields will contain data valid for the country.
STEP 7 – Customer Account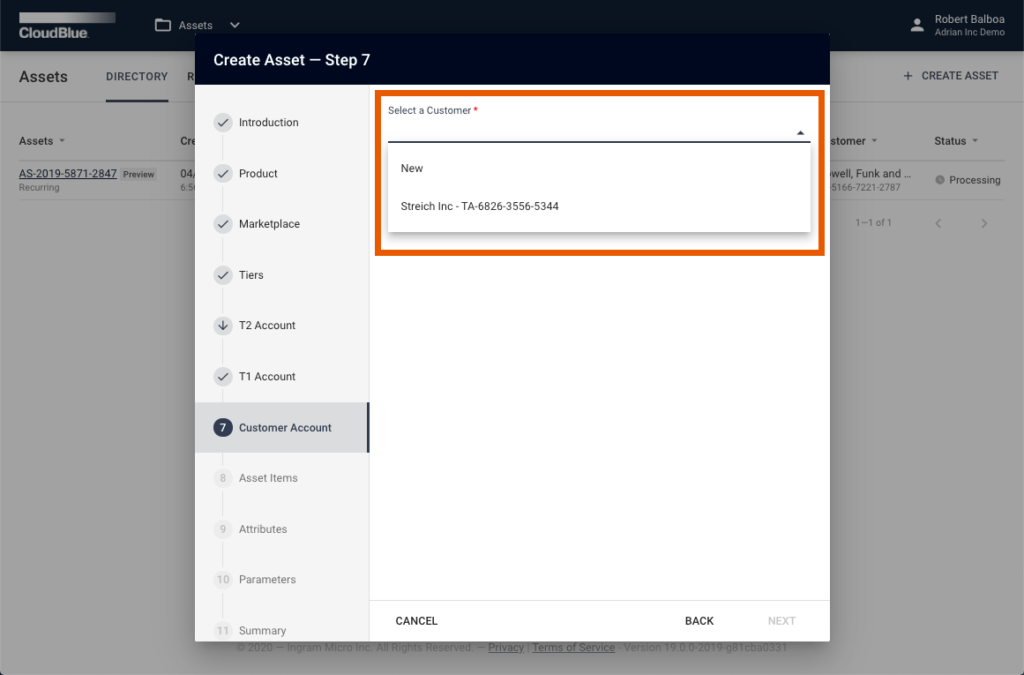 This step allows to select a customer the same way as T1/T2 account.
STEP 8 – Asset Items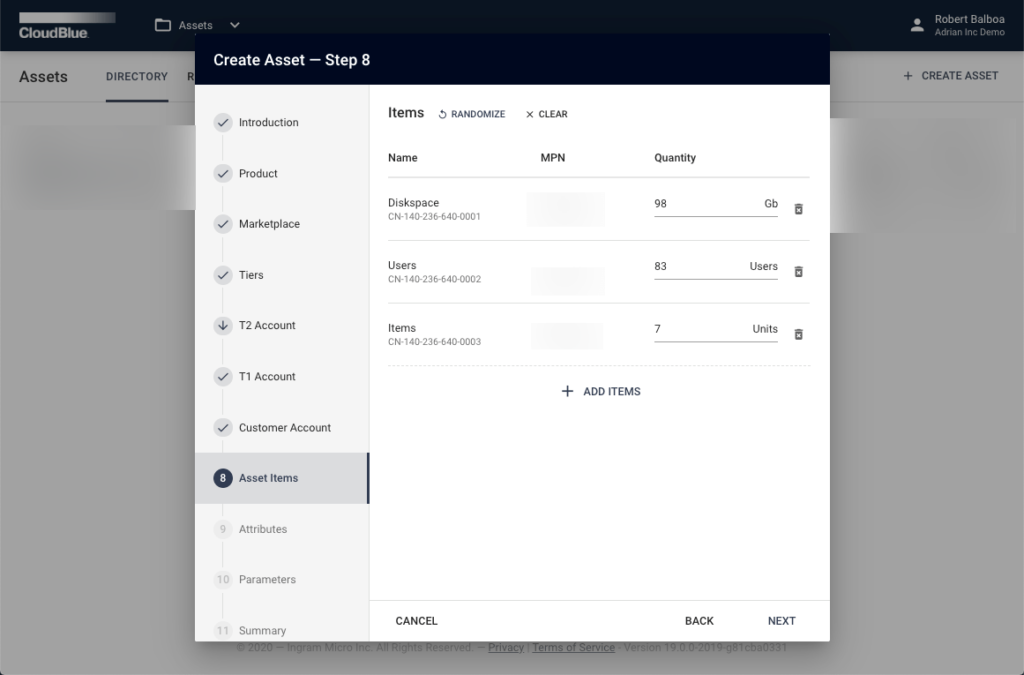 The logic is similarfor Items – they are pre-filled with random quantity that can be changed.
IMPORTANT! Currently, there is no option to add items to already existing requests – so it is recommended to add ALL Items available in the Product by using the ADD ITEMS button. If necessary it is possible to 'exclude' them from the request later by setting a quantity to 0 (zero).
STEP 9 – Attributes
This screen allows providing specific values for parameters of the Ordering phase that were previously created for a product.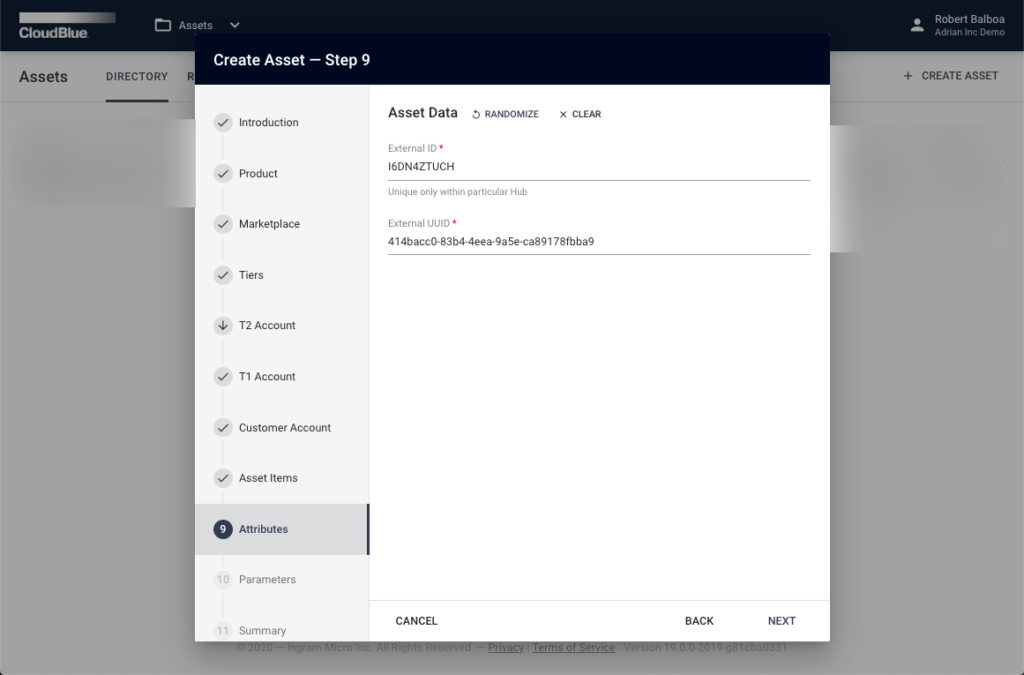 STEP 10 – Parameters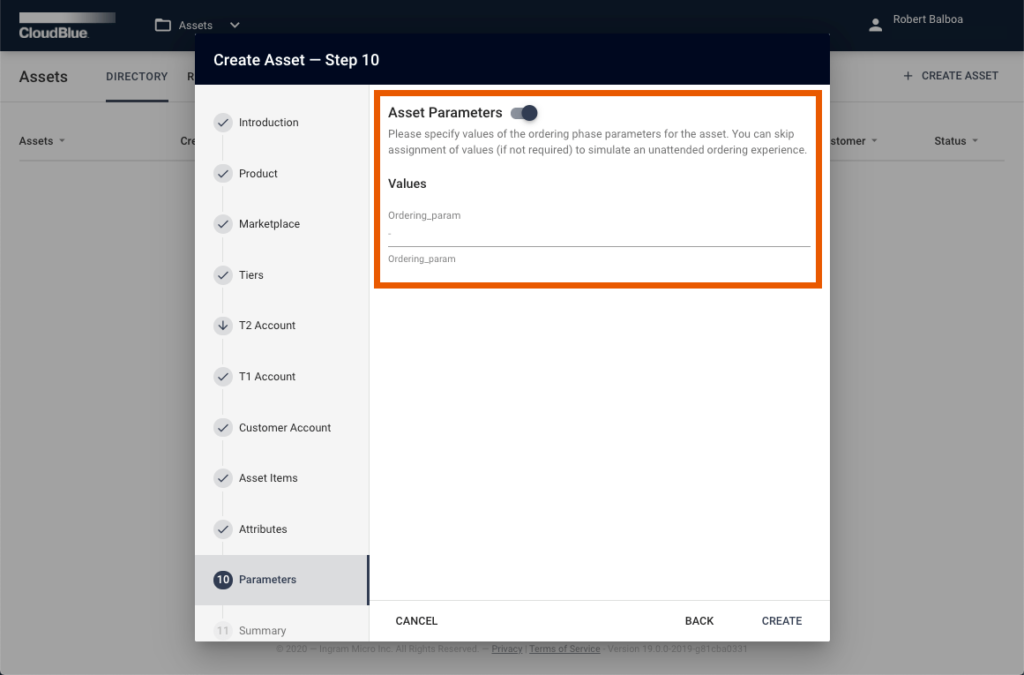 This step is only available if the Product has Ordering Phase parameters included. The screen allows to fill such Parameters before the Asset is created.
STEP 11 – Summary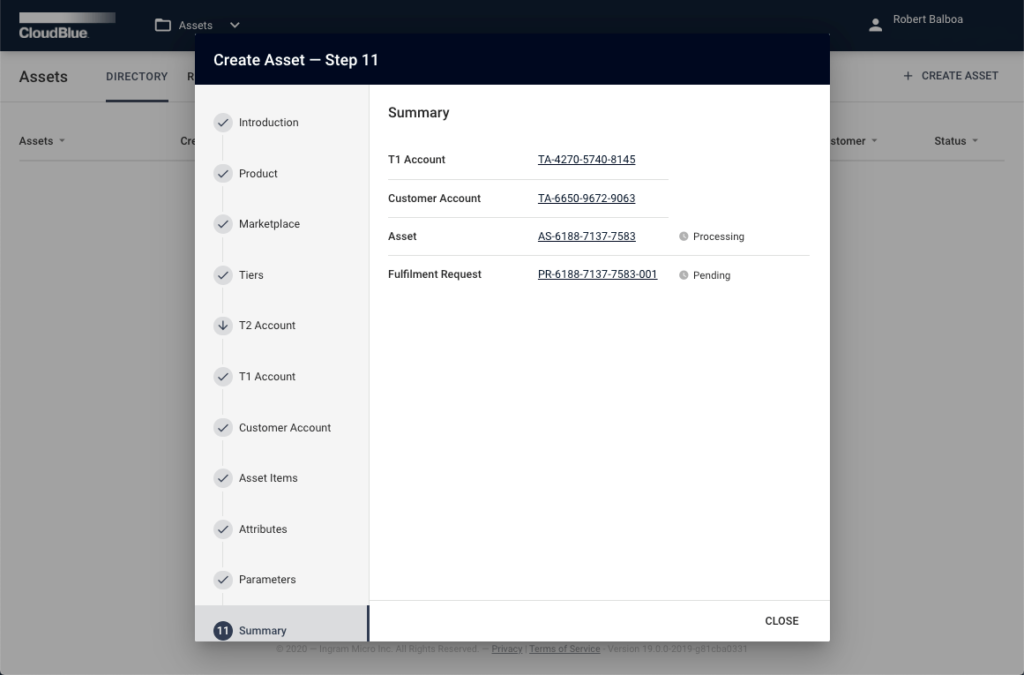 Finally, you will see the summary page, where you can see all the objects that were created and their current statuses. This page will automatically update itself in order to display the current state of created objects.
All the objects are clickable links that will open a corresponding object in a new tab that allows easily handle them and proceed with a summary screen again.
After clicking the CLOSE button an asset will appear in the list of Assets.
Asset details
There are two logical blocks – information (1) and controls (2). Both of them are described below.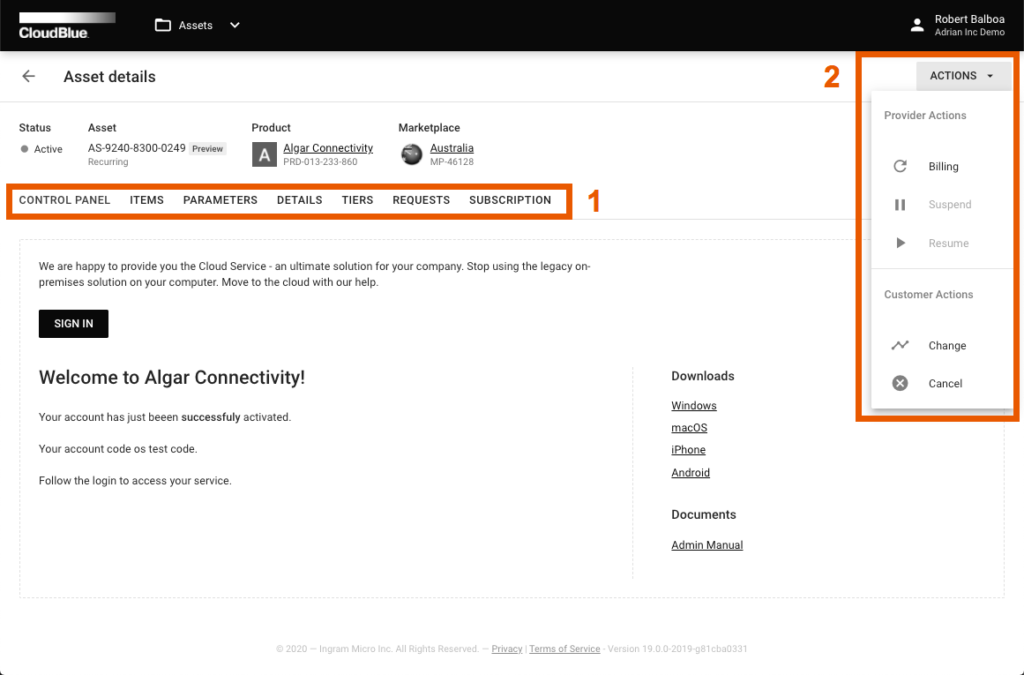 (1) Asset details are in many ways similar to requests, the difference is the control panel section that simulates how the end-customer would see the asset in the commerce system control panel.
Items, Parameters, Details, and Tiers related to a corresponding request are described at different tabs and are still a part of asset details. The very last tab contains all requests associated with this asset.
(2) In order to modify an asset and simulate different scenarios – for example, a change request – actions are available, but only for Preview type assets. These functions with assets are divided into Provider Actions and Customer Actions. Clicking on every action will prompt a wizard experience.
IMPORTANT! Suspend and Resume actions are greyed out in a case if the Suspend/Resume option is not enabled for a particular product.