Asset Request: This is the process that manages the purchase of the customer to the provision from the vendor, with all that involves the business.
Simplifying the flow, the Vendor process this purchase request and informs to connect that the request is Approved or Failed. Some vendor's systems allow setting a callback URL to notify when the transaction changes the status. Others are necessary to execute a pooling process.
This process is asynchronous. Connect inform to the Vendor that a purchase request is created by the Provider. And the Vendor after processing the service, process the request into Connect.
In the real world, more variables are implying in the process, like kinds of services, tier configurations or parameters.
In this link you will find aditional information to purchase request process.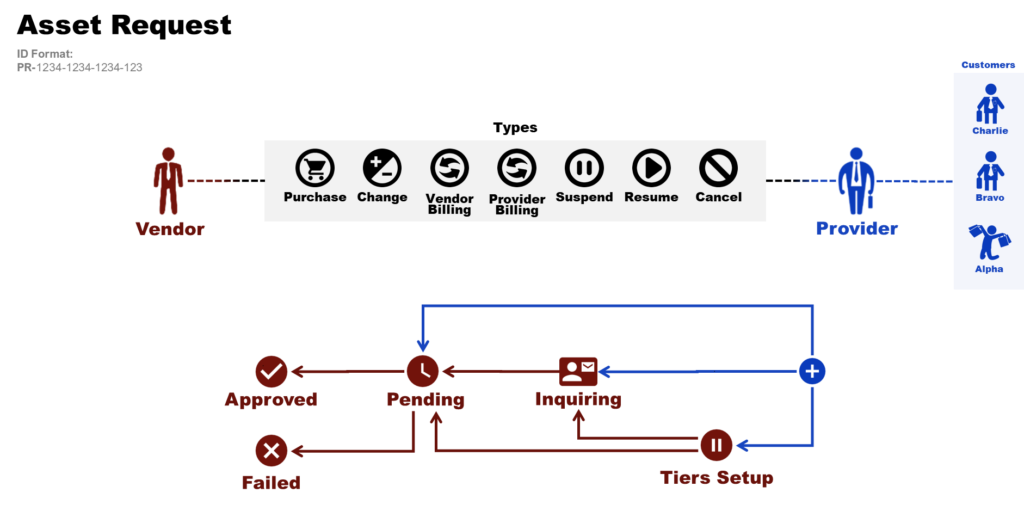 You can see the followings examples
Asset request with Javascript SDK
Resources used in the Asset Request Process:
Create new subscription
| | |
| --- | --- |
| Resource | /tenant |
| Method | POST |
| Body | JSON with subscription data |
| Response | 201 |
| Response Body | Status of subscription |
| Example | Create a new subscription |
Get subscription
Update subscription resource limits
| | |
| --- | --- |
| Resource | /tenant/{id} |
| Method | PUT |
| Body | json with resource limit data |
| Response | 200 |
| Response Body | |
| Example | Subscription resources |
Delete subscription
Suspend subscription
Resume subscription