The Account module enables Provider or Vendor staff to view and manage their account general properties, users, groups, contacts and account links.
Data Model
The business objects managed by the Account module are the current account, users, groups, permissions and account links.
Accounts
There are two types of accounts representing two types of collaborating companies or organizations:


Provider: an account that represents a service provider who is the owner of at least one commerce management system integrated with Connect.
Vendor: an account that represents a vendor of services or goods.
Users
Every account must have at least one user that can invite other users to join that account. A user can belong to several accounts, no matter whether they are providers or vendors, like in the following example: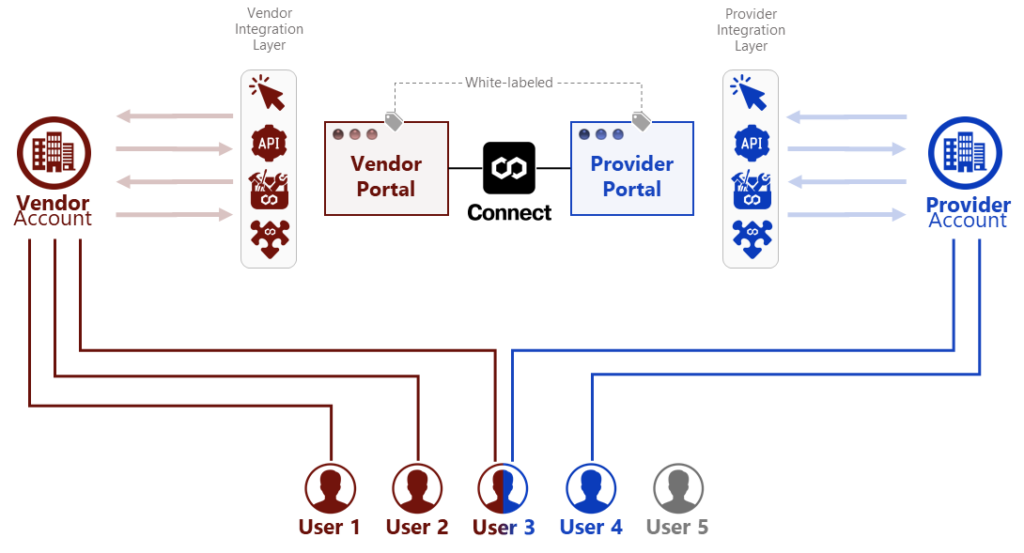 In the above diagram, User 3 belongs to both Vendor and Provider accounts.
Creating Accounts
A provider can invite a partner that does not have an account in Connect to be a vendor or provider by signing one of the following contracts with them:


For details on creating an account refer to the respective links above.
Account Management
The Account main page looks similar in the Provider Portal and Vendor Portal. Use the left-hand side tabs to switch to one of the following screens:
General displays the general data about the account, such as the account ID, name and description. There is also a place to upload Media data.
Users displays a list of users who can access the portal as the account staff. You can add and remove users in this list.
Groups displays a list of groups for portal access distribution between users. You can add and remove groups in this list and manage groups permission.
Contacts displays two types of contacts: Business and Technical.
Links displays and allows to manage custom set of links.
Terms (available only for providers) displays the service contract used to create this account and a list of permissions on creating various agreements as described in Service Contracts.
User Management
The Users tab from the Account module allows adding new users, manage them or delete them from your account.
Adding Users
Click Add User to add a new user. The following wizard will help you configure a new user:
Enter a user name. Thereafter, specify an email that serves as a login for your user.
Group: Select appropriate groups for the user from the list.
Summary: Review your added user summary screen.
Connect sends a notification with the invitation to the user. If the user is not registered in Connect yet, the notification will contain a link to the registration process. If the user already exists in Connect, this account will be available for that user immediately.
For newly invited users there are some additional options to operate with:
Copy invitation link: Copy an invitation link with this option.
Resend invitation link: Resend an invitation link to the specified email address.
Revoke invitation: Click this button in case you need to revoke this invitation.
Removing Users
Locate the required user and click the vertical ellipsis (⋮) icon on the corresponding row. Thereafter, click the Delete button.
In the pop-up window, click Delete to confirm the operation.
Information
After completing this operation you cannot use this user credentials to manage the current account.
Managing Groups
On the Groups tab of the Account main page, you can create new groups, add existing users to the group or delete groups from the account.
Adding Groups
By default, the system provides an "Administrators" group. This group includes all permissions assigned that can be adjusted further.
Group Permissions based on Connect modules access only. It controls modules visibility on Home screen and access to modules for a user.
Click the Add Group button to create a new group. The following wizard help will help you to configure a new group.
General: Define your group name, color marker in the UI, description and external ID.
Permissions: Select required group permissions depending on the group functions.
Users: Select available account users.
Summary: Review your created group summary screen.
Manage your groups
Locate your group and click the vertical ellipsis (⋮) icon on the corresponding row:

Thereafter, click Delete to remove this group or click Add users to assign new users.
Contacts
Click the Manage User button to manage your Technical or Business contacts.

Technical contacts
The Technical Contacts list includes the person(s) account owners have determined to be the best point of contact in the event some technical issues arise. These contacts will be visible to your partners who have an active contractual relationship with your account.
Business contacts
The Business Contacts list includes the person(s) account owners have determined to be the best point of contact in the event some business issues/questions arise. These contacts will be visible to your partners who have an active contractual relationship with your account.
Links
This section purposed for customizing Home screen for the Account. Once a link is added it's available on the Home screen of the Account for all users of the Account.
Add link
Click the Add Link button to configure a new link. The following wizard will help you to successfully configure a link.
1. Specify General link properties:
Name: This field defines link name that will be visible for users.
Image: A media image for your link (image will be resized to 64×64 pixels).
Description: Enter your link description.
Scope: Select a scope for your link.
2. Fill out the following HTTP settings form:
URL: Enter your web link in this field.
Method: Choose your http method: GET or POST.

JWT secret

: In case a JWT secret is available for your URL, it should be defined in this field.
Details: shows link details screen from where you may open link, disable/enable or remove that link from the Account.
3. Review your created link summary. Click Go to Details to access your link details screen. Otherwise, click Close to close the summary.
Once your link is added and activated, it will be available on the link list. Click on the vertical ellipsis (⋮) button to open, disable or delete your link.
Specified links will be also displayed on the Home screen for quick access.
Managing Own User Profile
Users can edit their own profile data by performing the following steps.
1. Open the user profile
Click on your account informationfrom the top right corner. Thereafter, click the View Profile button.

2. Edit personal information and settings
Edit your Personal Information and change your Personal Settings.

3. Manage notifications
Enable or disable email notifications and newsletter by using corresponding switches under Email notification settings.