Overview
To use a commerce platform infrastructure in Connect, the provider (the platform owner) must register this platform as a hub. A hub enables the provider to present vendor products for customers.
A provider can register as many hubs as they need. Every hub represents a separate infrastructure used for a certain purpose, for example:
To serve as a production or test (lab) hub
To cover different geographical regions
Regarding the first purpose in the above list, when requesting a connection to a vendor, the provider must specify whether that connection is used for testing or production.
Registering a Hub
Before registering a hub it is necessary to ensure your Cloudblue Commerce has the adapter package.
If everything was done correctly, you should see your new instance with the status "Ready" in the System Applications list as illustrated below:

And by clicking at the Instance you should be able to navigate to the Adapter Package screen to retrieve the Hub Instance ID configuration value:

Once both Adapter Service and Adapter Package are deployed, you will be able to instantiate Hub object referring to this instance of the CloudBlue Commerce in the Provider Portal of the CloudBlue Connect.
To do that, please navigate to the Hubs Management module and click "Register Hub":

Choose Type "CloudBlue Commerce and use Instance ID acquired during creation of the Adapter APS Application Instance: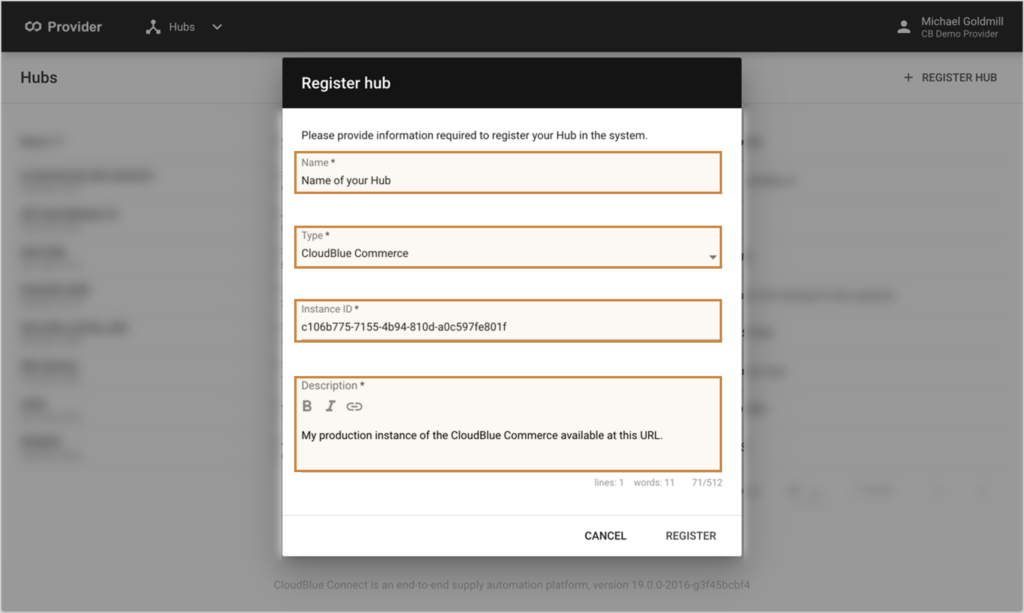 Once registered, you should be able to see the Hub in the list: